Leather bar stools are becoming more and more popular with each passing day. Many people enjoy the elegance and class these stools can add to any area of the home, such as the game room, dining room, or kitchen.
It is important, in order to keep everything looking its best that we learn what it takes to protect the barstools from stains and the average wear and tear that could result from use.
The following tips will help you keep your leather bar stools as good as new. You can also buy top leather bar stools through various online sources.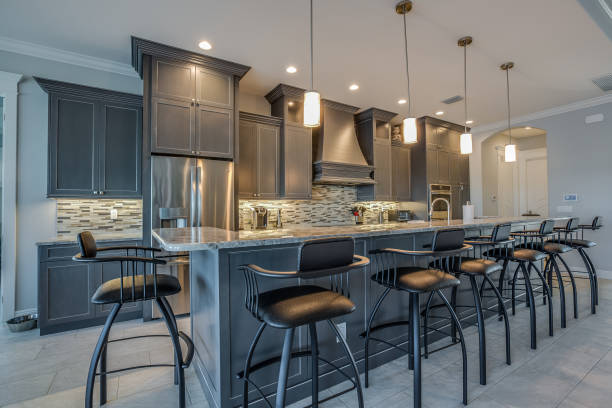 Image Source: Google
Tip #1 – Leather bar stools typically come with some sort of instructions from the manufacturer in regards to cleaning and maintenance.
It is important to follow these directions for the simple fact that not all leather is the same and requires different types of attention, depending on the type and treatment it has already been through.
Tip #2 – Regular maintenance is important when it comes to leather bar stools. Dusting and vacuuming regularly can help keep the stool looking fresh and new.
Vacuuming can help in reaching areas that the dusting cloth might not have, such as buttons, crevices, and edges. Each year you should treat the leather stools with a high-quality leather conditioner as well.
Tip #3 – Avoid placing stools directly in front of windows or any area that receives direct sunlight. Leather tends to fade when placed directly in sunlight.
Tip #4 – Sometimes stains are unavoidable, if your leather bar stool should happen to get a stain, take great care with your cleaning methods and solutions. It is suggested that you first test any cleaning methods in an inconspicuous area. This allows you to test the method, being sure it will not damage the rest of the stool.
Tip #5 – Through use, scratches are sometimes unavoidable. However, scratches are easily remedied. There are several ways to remove scratches such as a damp cloth, chamois cough, or even your fingers.